New Patients at Power Chiropractic Clinic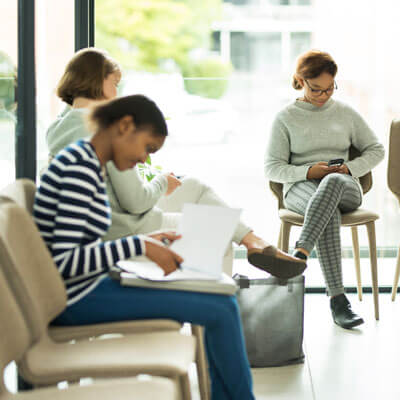 Welcome to our practice! We want to ensure your new patient experience is as positive and seamless as possible. To save time, we recommend filling out paperwork ahead of time. Or if you choose to do so before your appointment, please arrive 15 minutes early.
We also ask that you bring in a list of medications or your health history, letting us know if you've had any surgeries or prior injuries. If you have recent imaging reports or films, it's helpful, but not necessary, to bring those in.
Online Forms

The First Visit
Please allow an hour for this initial appointment. Here's what you can expect:
A consultation with the doctor. She'll review your history and find out what has brought you in, what you're hoping to achieve, and what we need to focus on.
Taking X-rays, if needed (these can be done on-site).
Your chiropractor will proceed with some type of therapy to offer pain relief. Please note that we don't always adjust on the first day typically. That's because we like to have time to review X-rays or gather additional documents from other doctors, if needed.
Before your next visit, we'll check your insurance and gather those benefits, and provide a payment plan option for you if needed.
The Second Visit
Ideally, we will have you return within 24 hours for this second appointment. We'll review all the financial aspects of your care and whether it's cost-effective for you. Your chiropractor will review all your findings and your X-rays, and then devise a plan of action, which includes how to achieve the particular goals that you and the doctor have laid out.
At this appointment, we'll review that plan and get started with your first adjustment. We'll also adjust you or provide some type of therapy to provide pain relief.
Please allow 30 minutes for this appointment.
Regular Visits
These appointments can last from 5-20 minutes, depending on what therapies you're receiving. For example, if your care plan focuses on stretching and strengthening, that part may take longer (up to 30 minutes). Typically, however, if you come in for an adjustment or regular therapy, the appointment will take about 10 minutes.
We Welcome Your Questions
Patients appreciate that at Power Chiropractic Clinic we give them ample opportunity to ask questions, talk, and have their questions answered before proceeding to the next step. Whether it's questions of cost, what we're actually going to do, or how chiropractic works, we'll be happy to answer them.
Book an Appointment
Take that first step toward improving your health. Contact us today to schedule an appointment!
Contact Us
---
New Patients at Power Chiropractic Clinic | (870) 600-9006